First off, I have to say that these were actually the 2nd and 3rd book I read this year, but because I had started The Gun Seller a long time ago and just now had the inclination to finish it, I will not count it for the list.
Book#1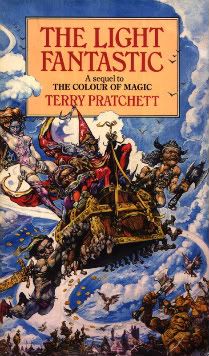 The Light Fantastic - Terry Pratchett
While the image I used looks very nice and neat, my book has seen better days, because he spent almost all of last year in my backpack tumbling around, so it looks twenty years old. I am a bad person. Also, under the title, my book has "A Discworld Novel" instead of the text presented in the image above.
Did I like it? I'd be an ass not to.