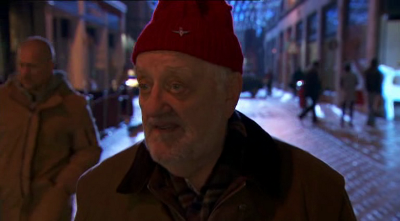 Fuck yeah, Wilfred!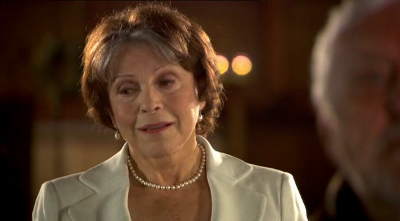 "They call him The Sainted Physician." LOL WUT. And who the hell are you?
And seriously, who had the idea to change the credits? They are FINE like this.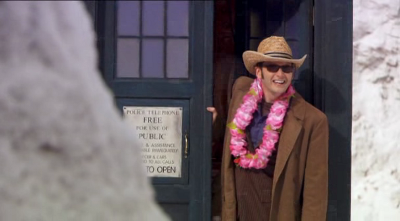 The casual opening, as is normal on the start of a two-part episode.
"I locked the TARDIS like a car...locked it...like a car. It's funny." What do you think, Mr. Ood?
My thoughts exactly.
The Oods are having nightmares. So is Wilfred. First mention of Donna.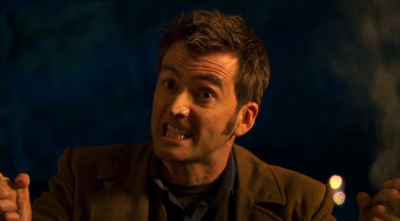 "I held him in my arms. I burned his body. The Master is dead." The Master theme is soooo good. "The drums, the drums, the never ending drums."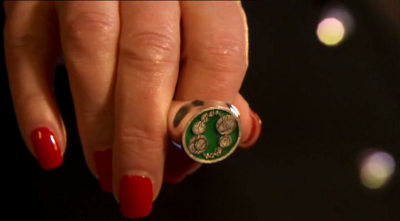 Looking at the screencap, it seems a bit less dramatic, but the "he returns" scene was very gripping. Another example?
They sometimes exaggerate too much with the blue lights, but this time it was very appropriate.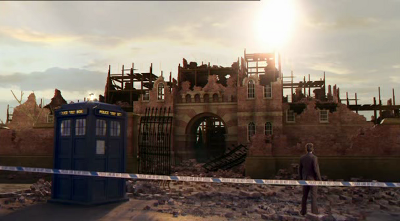 Well, he died fast.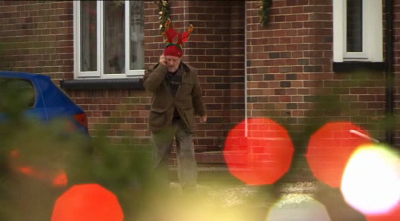 Ah, well, if you were forgetting it's Christmas, then here's a reminder.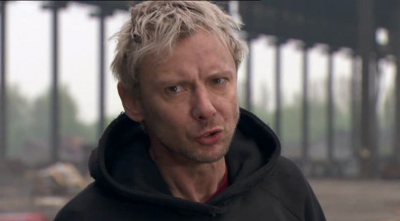 I knew he would be back because I saw a screenshot similar to this one. It left my wondering: WTF is it with the bleached hair? It's not 1994, Mr. Saxon.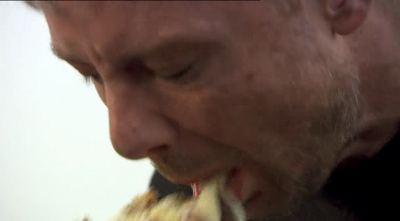 DRAMATIC MOMENT. SEE AS THE MASTER GETS HIS NOM ON.
"I'm hilarious!" Why yes, yes you are.
The Doctor is now chasing the Master, possibly to mock his hair. Then Wilfred (I keep writing Wilbur) finds him along with his senior friends and stops to have a coffee. Ya know, like you usually do when something ominous is going on.
DONNA!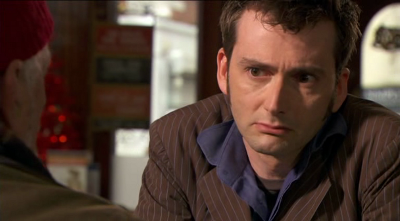 Oh man, his voice his cracking. Wow.
WHAT THE HELL. WHAT? JAMES BOND IS IN DOCTOR WHO. WHO IS HE? WHY IS HE NARRATING?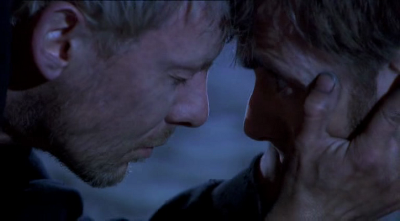 "Do you hear that sound?" Yes, Master, it's the sound of the slashers fainting.
They've taken the Master. Who? No idea.
She is realizing something. Come on, make DoctorDonna happen.
Wow, that girl (she's the prime-minister daugther, because this is Doctor Who after all, so the prime-minister is always involved) is really into Master. Oh god, I didn't mean...you know..."into" as in...gosh, nevermind.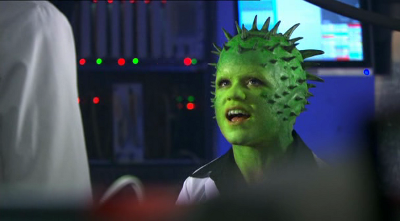 WAT. Okay, we're 44 minutes in and no one has explained the bleached hair.
They are connecting this to the battle in Torchwood 1. Good, I like plots that make SENSE.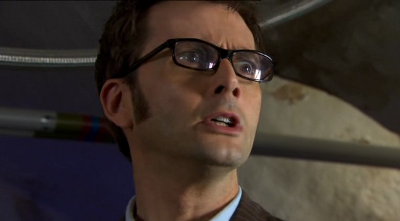 The green lady said the big device thing mends PLANETS. Yeah, Doctor, I am as shocked as you are.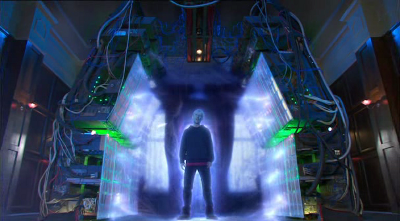 EEEEP!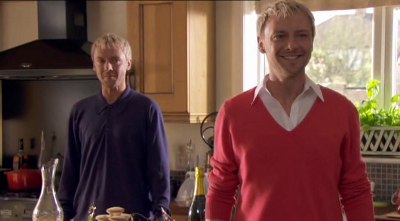 I'm sorry, but this is funny as fuck. Also, John Malkovich. And Donna is remembering. Please, let her live!
OMG THIS SHIT IS HILARIOUS. The "Master race" is quite clever.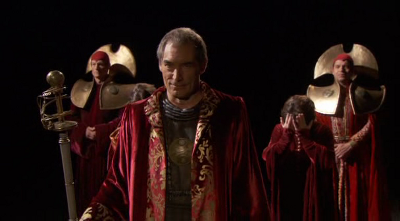 :O . I have not the words...OH MY GOD. (Yes, I've only now realized
Bond, James Bond
Mr. Dalton is a time lord. And the
Big Boss
of time lords, no less.)
"For the end of time itself." ...wait...are the time lords all bastards now?
I just...I cannot. WANT NEXT EPISODE NOW, PLEASE. AGAIN, SORRY FOR THE ABUSE OF CAPS. MY EMOTIONS, THEY ONLY COME IN CAPITAL FORM.
And to be quite honest, I don't yet see the "weakness" that most people found in this episode. Maybe I will once I see the next part, but for now, it suits me fine.