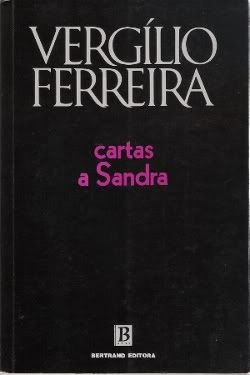 Cartas a Sandra - Vergílio Ferreira (available at your
local library
)
To be very honest, I don't remember much about Aparição. It's been a while since I read it, so my memory is quite hazy. I do remember, however, feeling like I didn't get it, but I wanted to. That's why I picked up
Manhã Submersa
from my mum's shelf. I liked that one a lot, even though it was about something I can't possible relate to. Sometime after that, I recall my friend
David
telling me he loved "Cartas a Sandra" and that it was very sad, but wonderful. Later, someone let me borrow their copy of it and I had it sit on my shelf, unread, for almost 3 years. A few days ago I finally finished the book.
I'll be honest with you: I did try, I did force myself to read when it seemed like I just couldn't do it. I even started my next book just to refresh my will to finish Cartas a Sandra. I still cannot say I have fully read the book, as I skipped over some parts, because I just wanted it to end. Unlike Manhã Submersa, or even Aparição, the aim of this one escapes me and though I wanted to understand Paulo and Sandra's story, I think that perhaps I have should read Para Sempre first, as it probably helps to understand their relationship. That being said, I don't think I will. I have seen love letters like these often so for me, it was hard to immerse myself in their world. I don't think they sound fake, but I do find it hard to believe the feeling itself. I know this sounds confusing, but bare with me.
I get that Paulo loves her. It's a given. However...why does he? What motivates this love? What made it so strong? Feelings don't always need to be justified, but in a book as short as this perhaps we would have been better served with something more substantial to explain their chemistry. Maybe I need to read it again to find out, because I suspect the answer is in the book, but as I didn't find it, I am solely left with a feeling of puzzlement and distance towards the characters.
Will not say I don't recommend it, because I suspect it's just not my cup of tea, rather than a really horrible literary piece.
Excerpt:
Como poderia eu ter imaginação para te reconstituir na sólida delicadeza da tua fragilidade? Sandra. O amor e a morte inserem-se um no outro, deves saber. Mas eu sobrevivi e isso é uma condenação. Penso-te e o teu esplendor renasce-me no meu pensar e a minha idade retrai-se quando me apareces. E a eternidade em que se vive, mesmo se a velhice é real, restabelece-me igual a ti que nunca envelheceste. E não me perguntes porque te escrevo, se tudo é vão, Mas há o meu desejo de te fixar na palavra escrita que te diz, para ficares aí com o milagre que puder. É Primavera e tudo é nítido no seu ser real. Os campos cobrem-se de relva, as flores despertam da sua hibernação, passa na aragem o perfume da vida, de tudo o que é vivo no mundo. A luz nítida demora-se no cimo dos montes e eu olho-a na sua agonia para um pouco existir no que te digo. Ou no teu nome de que não gostavam muito e agora renasce em sonoridade branda quando o penso ou o escrevo ou o digo em voz alta.