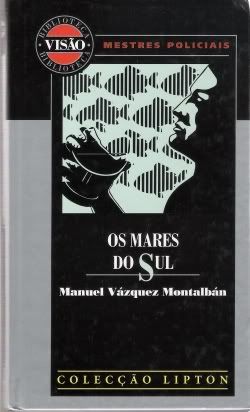 Los Mares del Sur - Manuel Vázquez Montalbán (available at your
local library
)
It's always harder for me when I don't know the author, and even harder when, after reading the book, I am puzzled as to whether I liked it or not. Mares do Sul is a perfect example of that. Nothing wrong with the book...well, if I said there was nothing, I'd probably be lying. This is one of those which I can't say I disliked, but I do have a lot of issues with it.
Mares do Sul is - according to the man's Wikipedia - one of the first books in the Pepe Carvalho saga, if you can call it that. Most of Montalban's work was devoted to exploring the stories (and work, obviously) of this 50 year old guy. Now, he's not just any dude, he's probably the first protagonist of a crime novel that fails completely at gathering my sympathy.
He's sold to us as very charming, with his vast culture, love of fine cuisine and blunt manner of speaking. In my mind, however, he's simply grumpy, obsessed with everyone's political standing and devoid of any kind of moral. He treats the women he meets like utter shite. He supposedly has one girlfriend, but he does not hesitate to fuck the teenage daughter of one of his most important clients, regardless of her many issues. She's a heavy user of all kinds of drugs and due to the death of her father (which Pepe is investigating), starts showing her real insecurities and becomes enthralled with this old man who never lets his guard down.
He fucks her, makes fun of her cocaine use - when she waits at his house for him, she prepares dinner...the first words he says are something similar to "nice meal, but where's the coke?". Perhaps this is supposed to be funny. To me, he just sounds like a guy that has no problems in using people to get what he needs. Be that money, food (since his "helper" always cooks for him) or a quick lay.
Still on women: he thinks he's such a fucking irresistible piece of ass, even when he's being shut down in a grand manner (see the excerpt for a clear illustration of this) or even when he's losing his erection. Don't believe me?
"Carvalho saltou da cama, procurou na mesita-de-cabeceira a caixa de Condal número 6, acendeu o charuto, sentou-se na beira da cama e contemplou como de uma varanda o espectáculo do seu pénis em retirada lenta."
He stood in awe of his flaccid penis. He lit a cigar to celebrate the fantastic awesomeness of his limp dick. This bloke is so into himself that I do wonder why he bothers fucking other people. Perhaps he needs someone to hold the mirror. Or camera. Or to sell tickets to his flappy show.
Another "cool" thing he does? He burns books instead of wood in his fireplace. Now that's just stupid. I have no words to describe how pathetic an attempt at being suave (or something) that is. Plus, in most scenes, instead of dialogue or ANY action whatsoever, we're treated to endless streams of his memories which are never relevant to the story. They are the kind of thing that you hear from people when they have no other arguments; the "in my time, things went smoothly" line of thought. For him, and his immaculate past, all other human beings are wrong, silly and have no real purpose in life. He doesn't trust anyone, and yet people keep falling at his feet, presumably because they see him as enlightening.
Even when the story finally ends, we see a powerful, rich woman be insulted by him...and then, because he's CHARMING OR SOME SHIT she decides to ask him to come and be his boy toy. Despite the fact that he's probably older. And, according the descriptions, not very attractive.
The story itself is somewhat interesting, and would probably be more had the author not focused so much on the inner dwellings of Pepe Caravalho and actually tried to build other charaters that didn't worship him instantly. Plus, he did have a clever way of presenting the story to us, and it didn't seem like the clues fell on Pepe's feet. The pacing could have been much better if so much of the book wasn't 70% "oh, woe is me, I'm so awesome and everyone else is stupid and ugly". Seriously, do we need a monologue in the middle of each scene? I think not.
I guess this is a decent read, but the main guy is such an asshole, I'd have problems recommending this to anyone else. Maybe it's just me, being a girl, with my girly feelings. Or maybe he's a fucking asshole. Yeah, probably that.
Excerpt:
Carvalho tinha vontade de lhe dizer: tinha o poncho, meu amor, e vamos para uma cama negra, branca, redonda, quadrada, tanto faz, porque quando a burguesia não pode conservar o controlo da cama, começa adjectivá-la.
- Vais continuar aqui, ou vens beber seis garrafas de vinho branco absolutamente sensacional?
- És rápido, forasteiro. Que insinuas?
- Que vamos para a cama.
- Não há dúvida. Conheces Juanito Marsé. É a sua técnica. Diz que lhe deram muitas bofetadas, mas que também teve muita sorte.
- E eu? A bofetada?
- Não. Mas também não a sorte. Estou à espera da minha miúda. Tenho-a aparcada lá dentro. O nosso é um amor impossível.
- Tinha acabado de nascer.
- São os melhores.
Carvalho despediu-se com uma pequena vénia. Na rua concentrou-se no tema dos amores que acabam de nascer.