Oh folks, it's that time again. I haven't been feeling like myself, so the choice is obvious: I have to watch a show about asian people doing silly things that I couldn't possibly relate to. As per usual, I take screenshots out of context and try to make the most of the lack of plot by writing up my own - sordid - conclusions as captions.
This time, it's Otomen. What is an Otomen? Well, not even 30 seconds in, and you are given a very long explanation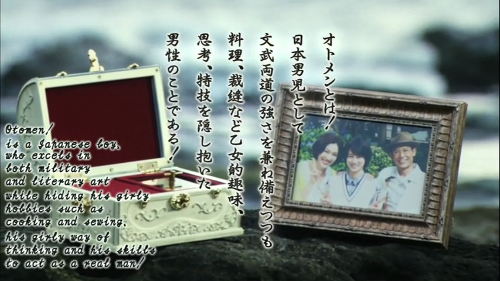 For those of you who can't read that font (and I don't blame you for it), it reads: "An Otomen is a japanese boy who excels in both military and literary art while hiding his girly hobbies such as cooking and sewing, his girly way of thinking and his skills to act as a real man!"
REALISM. THIS SHOW HAS IT.
The opening scene is a sepia-toned one featuring a guy in a very stylish suit singing something about Otomen falling in love and then we see a little boy...
oh, I see. It's a boy being all girly, hence the frilly apron. BECAUSE BOYS BEING GIRLY IS SUCH A WEIRD CONCEPT, RIGHT. THIS MUST BE A DREAM SEQUENCE. OR AN ALTERNATIVE UNIVERSE.
So then, we skip to a scene which is probably a few years later, though everyone looks the same.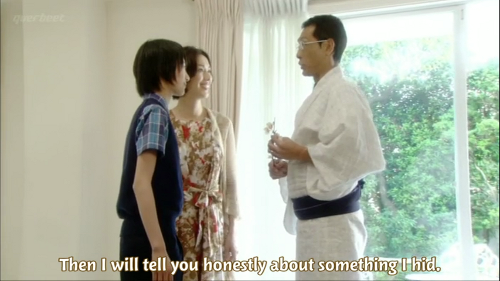 Ah, no more sepia filter. This must be real life. Anyway, the kid – Asuka [
and now I'm hungry for sushi
] – stole a branch off a cherry tree his father cherished. Instead of being angry, is father says that his honesty is worth "1000 cherry tree branches", and then his mother, all excited, confesses she's bought a bag at a sale. Of course, the father has also a small truth to share, which is
...oh. Okay. Uh. * coughs * Is it just me or did he pick the most awkward time to reveal this? Let's observe the sequence of events:
I STOLE A CHERRY BRANCH!
I BOUGHT A BAG AT A SALE!
I WANT TO BE A GIRL!
Not exactly what I'd guess. And now the father is all "YOU HAVE TAUGHT ME TO BE HONEST, SON. THAT BRANCH REMINDED ME OF HOW I ALWAYS WANTED TO BE A GIRL AND NOW I FINALLY CAN."
My goodness, I picked a great one.
Mother agrees.
And this, my friends...happens in exactly 3 minutes and 5 seconds. And now she's in the hospital? WHAAA. She asks Asuka to always be a "real man" and not be like his father. Okay, I see where this is going.
LOL WUT.
Okay, so she died after 10 seconds on seeming completely normal, if a bit tired and then the doctor...I can't even explain it. Either watch the clip above or figure it out from the next few shots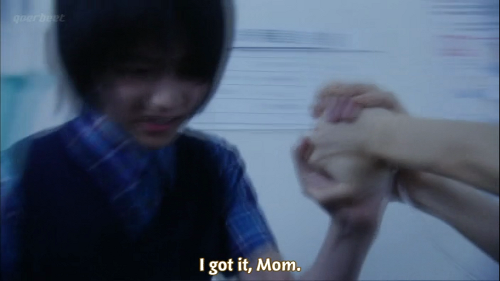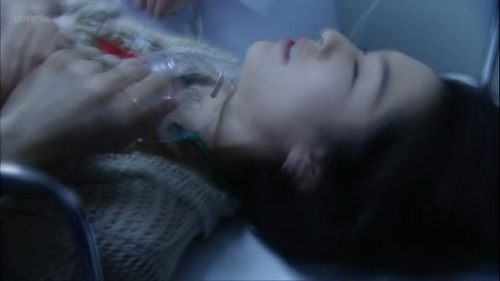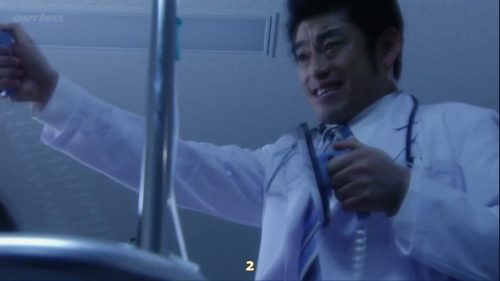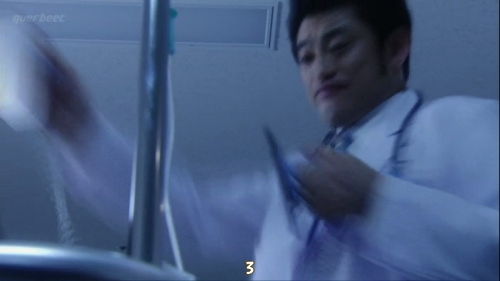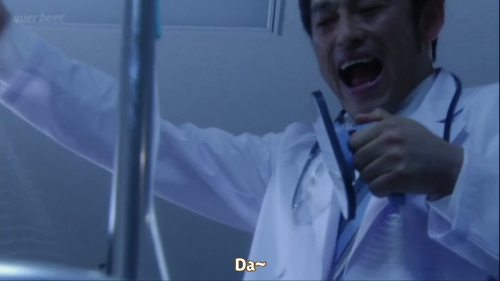 TOO BAD SHE STILL DIED.
So he puts away all of his stuffed animals, including one called Patrasche (or something), and is now a MANLY MAN FROM JAPAN.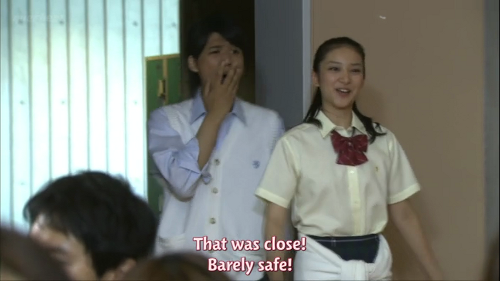 Be more convincingly bored, unknown guy that looks like a douchebag and probably is the sort of "villain" of this thing.
Everybody loves Asuka, and even though his team is losing miserably he opens a can of kendo-ass-whooping and wins it for the...school. Which I also don't know the name of.
And here we have the usual team of swooning girls who will make life difficult for our heroine. What? Don't like at me like that, you know it's going to happen. If Ouran Host Club has taught me anything, is that these girls are EVERYWHERE.
School name: Giyunri high school. Heh, yuri.
Captain Douchebag comments that Asuka is just like a shoujo hero. Well, I might as well turn this off if you are making it so obvious.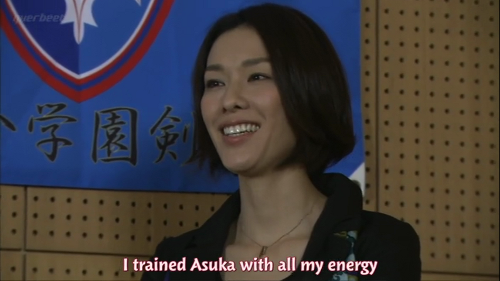 SHE DIDN'T DIE. Dr. Lulzforceps did a good job after all.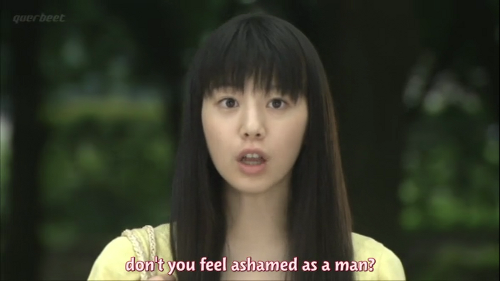 I feel like we've seen something like *cough* Hanayoridango *cough* this before. But okay, I'll bite. She doesn't look that tough, and our hero is smitten by her...balls. Yes, she has huge balls, and that's about it. At least Tsukushi kicked some ass. Still, she tries to stop the bullies from taking the wallet of a guy that looks INCREDIBLY girlish.
Oh look, it's that thin, geeky guy from Bleach. He has some sort of...thing going on towards Asuka. Huh. Maybe he's the villain, then. Btw, nobody explains why he was there or who he is.
Later, she thanks him, and in an adorable scene, she lends him her red umbrella. I kinda like how subdued she is. I like feisty girls, but often they go way overboard with them on asian dramas.
Almost 12 minutes in, I finally see the opening credits. They are quite fun and non-obnoxious, actually.
And this person is, apparently, a teacher. And even though she looks 30 at most, she's apparently a grandmother. Her family sure is into putting out.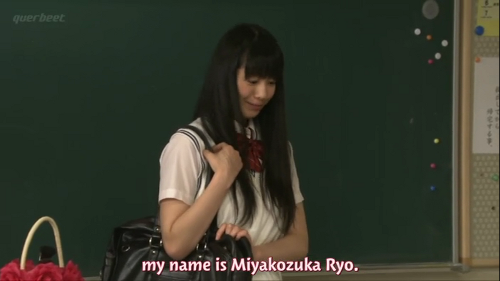 Oh of course she is a transfer student. THIS PLOT DEVICE HAS NEVER BEEN USED BEFORE.
Captain Douchebag is the class womanizer, I see. And he talks her into – though she doesn't need any "talking into", as she believes his lie right away – giving out her email address and phone number.
...and she spells it out loud. I like her her innocence.
Scratch "girly kid", enter WHAT IS WRONG WITH YOUR HAIR AND HOW CAN WE FIX IT.
He reminds me of something...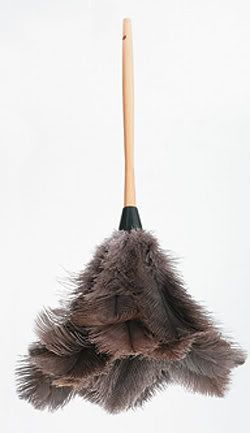 Yes! This is exactly it! Now, if only I could illustrate it better...
There ya go.
Oh geez. This gon' get good. HE DID NOT JUST SAY "SPARKLING EYES". Even fluffy-face Asuka is weirded out by him, but accepts his request and lets him watch the kendo practice.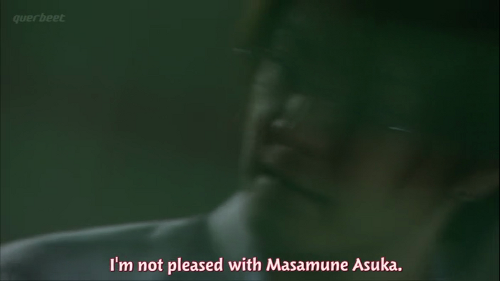 I like this drama a lot more now. Hopefully, Thin Guy From Bleach will force him to play the rusty trombone.
And as I mention bleach, Captain Douchebag draws Asuka and in the process, makes him look like the main guy from Bleach. Either that, or all samurai dudes look the same. Possibly both.
19 minutes in, and ALREADY A FLASHBACK? Art thou srs?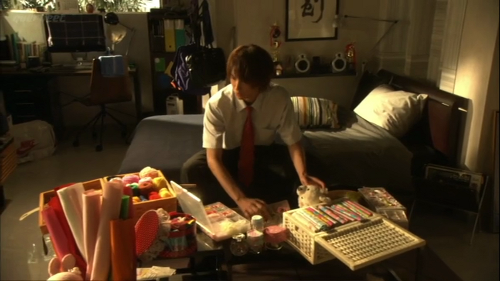 The moment his mum leaves for a business trip, Asuka gets down and dirty with his sewing kit. OH YEAH. KNIT PORN.
Oh, so all he's doing is fixing a stuffed bear dog that he found on the street...while listening to porn music? Really, I don't know what the sound guys were drinking, but the music that accompanies this scene is very porno. Something like this:
http://www.youtube.com/watch?v=4fYfdlKIon4
The finished product. Note that all the adornments are handmade by Asuka, king of MAN. He calls the dog "soft and sparkling". Manly sparkles, though.
Douchebag Guy is spying on him, so he now knows Asuka's secret. The next day, he's helping Transfer Student Girl with her cake. It's assignment, not an innuendo. Her previous attempt:
Love that when this scene is playing the "
lalalalala-laa
" sound from Nausicaa is in the background. Then Douchebag Guy leaves the room just in time for Asuka to save the day with his manly cooking.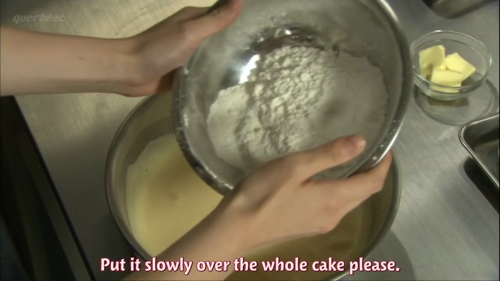 They work on the cake while the porn music is on. Douchebag Guy spies on this, as all this was just a clever ploy to confirm the notion that A GUY CAN COOK. OMG. STOP THE PRESSES.
Is now a good time to mention that I'm a horrible cook, but a decent baker?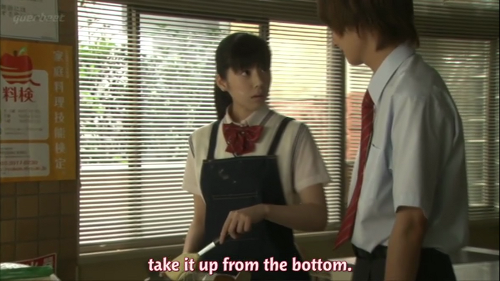 The porn music agrees.
No, it looks tacky as fuck.
The bullies almost beat up a guy that's in charge of the school's flower garden, and then someone saves him. I bet it's Asuka.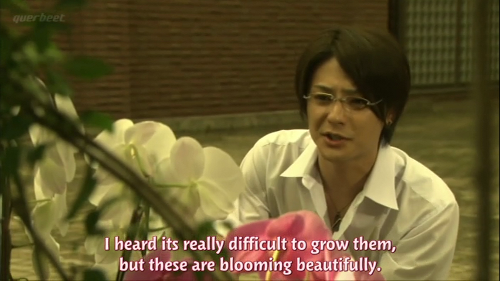 It's Thin Guy From Bleach after all. So you hate him because you are girly too? You are making this too easy for me, Otomen.
There's a confrontation between some of Asuka's pupils and the bad guys. Thin Guy From Bleach breaks shit because no one understands the beautiful flower he has inside. Or something.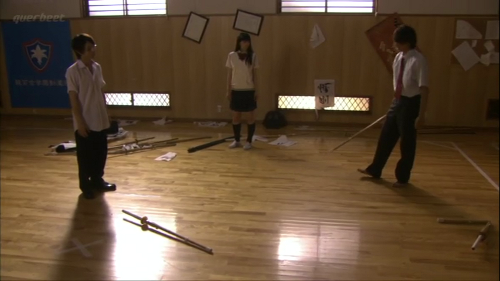 Asuka may be out of the tournament if he fights back, but nothing will happen to those bullies after trashing school property? Even though they have at least 3 witnesses?
They Kendo it out, which actually turns out fine because there's no cheesy music, and the fight sounds very real. Plus, Kendo is cool as fuck.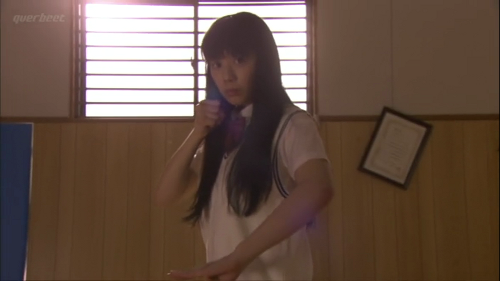 Ah, I was beginning to feel like this was not a repeat of Hana Yori Dango. Transfer Student Girl kicks ass after all, it seems.
But I don't mind, because it's a good,
spinning kick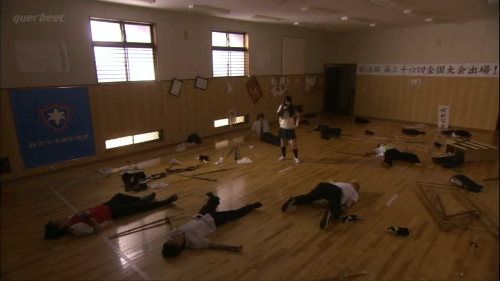 smackdown.
And then she tells Asuka he's cute and that she wants to protect him.
I should note the outro is also nice, but not safe from the typical japenglish: "I WIU RUB IU FOWEBA". [I will love you forever]
Tune in next time, when nothing spectacular happens.