This
Last week, there are student council elections at my
personal hell
college. Now, usually, I don't give a shit about them, and while I may browbeat someone into voting - it's the one aspect of political life I'm very passionate about - I didn't vote for this election.
Without getting into a long rant,
everyone should vote
. We have power via the simplest of gestures and I think it is not only wasteful but irresponsible not to express your views. I hate to hear people saying that they don't vote because they don't like "the higher ups" and don't want to support their "games". Well, there's one solution to that: vote for another party, vote blank, just VOTE. And that person will say "well, I'm not voting in protest!". Fine, protest, but bare in mind that you will be bundled with the people that went to the beach, or to a football match because they don't give a shit about elections. A black vote means you went to the trouble of voting, even though you don't agree with any of the choices presented to you. [You may point out that usually blank and null votes are counted together, and yes, they shouldn't be. It's still better than staying at home.] That, to me, is the best way of protesting, because I can't stand people blaming our politicians for everything - even though they aren't, you know, GOOD - and then not doing something to counter that. You have the duty to vote, and if you don't,
you cannot blame others for choosing a certain person, because you let them make that choice for you
. It's called being responsible for your future, and it may not seem like much, but every vote does count. And as soon as we all realize how powerful we truly are,
I believe we will become a lot more demanding
, and thus, not any guy with a law degree can run our country. Because our politicians know that most people don't care who's in charge, they don't try hard enough, and that's the real issue. It's very easy to satisfy someone who isn't that bothered about it in the first place. I'm not excusing their behaviour, I'm just stating that
our current problem with politics and politicians is strongly connected to the voters' unwillingness to challenge them
.
OKAY, LET'S MOVE ON TO THE PICTURES.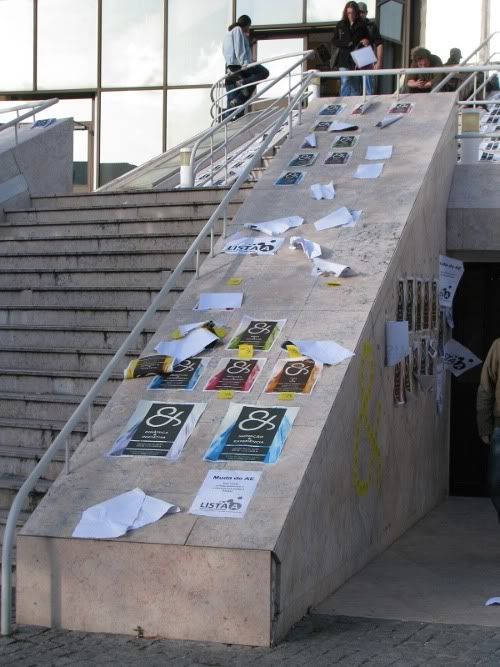 Maybe last year it was this crazy, but I wasn't there to witness it. I remember in my first year of college, the people from the C list glued little stickers everywhere. I thought THAT was obnoxious. It seems I have no idea what's obnoxious, because, as you can see from that picture, they spared the windows because they couldn't get to them. And really, I wish I had gotten these shots the day before, when the wind hadn't said fuck you to the collage treatment of that building, so you'd get the fuck effect of this batshittery. Maybe this will help.[More pictures after the cut]