(Which was also on my
list of books I had to read for a class
shelf.)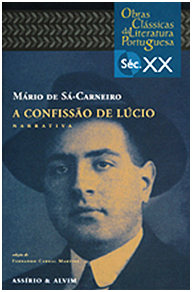 Mário de Sá-Carneiro - A Confissão de Lúcio (available at your
local library
)
Liking Fernando Pessoa as much as I do, I don't know how I never stumbled across the idea to read Mário de Sá-Carneiro. I guess I just forgot he existed, perhaps due to how short of a career he had. I will tell you up front that you should read this. I won't say I'm not biased because this is indeed a subject I really like to delve in (that being the pain connected to coming out and accepting who you are). In fact, I have, if I recall correctly, at least two other books dealing with the same problems. One of them, I even bought on impulse as soon as I read the back cover synopsis.
It's not only because of that. As some of you may know, it's said Sá-Carneiro was gay and obviously must have had an incredibly difficult time dealing with it. Lúcio sounds like him. A guy who is in law school, decides to go to Paris, becomes entranced with the city's bubbling night life, meets several people of "the arts", as you might call them. That was Sá-Carneiro's life. He was disappointed with Coimbra, so he moved to Paris and instead of finishing college in Sorbonne he was intoxicated by the culture (modernism was blossoming, so the sudden clash with the avant-garde aesthetic created a whole new artist in him).
Lúcio starts out the book by stating that he is in prison for a crime he didn't commit. He didn't murder his best friend, Ricardo de Loureiro, but now, years later, he writes to us to confess his innocence. He doesn't expect us to believe him, but he feels he must. This is how his story begins. We see his journey, from Lisbon to Paris and back again, along with his interesting relationship with Ricardo and eventually, with his wife Marta. I won't exactly spoil the book for you, because it is something I advise all of you to pick up, but Sá-Carneiro manages to not only be riveting but also intimate. You feel you are in a room with these characters, watching things happen. There's also a sort of raw sensuality in his words, along with a deep pain. His way of describing certain situations is so palpable and interesting to discover that I think I may pick this up again to read it with a bit more time. After all, because I had to read this for a class, I was rushed, and I felt like I didn't pay it the attention it deserved.
Even still, Lúcio, Ricardo and Marta will remain in my mind for a long time. As will Mário de Sá-Carneiro.
Excerpt:
As bailadeiras começaram as suas danças. Tinham as pernas nuas. Volteavam, saltavam, reuniam-se num grupo, embaralhavam os seusmembros, mordiam-se nas bocas…
Os cabelos da primeira eram pretos, e a sua carne esplêndida de sol. As pernas, talhadas em aurora loura, esgueiravam-se-lhe em luz radiosa a nimbar-se, junto do sexo, numa carne mordorada que apetecia trincar. Mas o que as fazia mais excitantes era a saudade límpida que lembravam de um grande lago azul de água cristalina onde, uma noite de luar, elas se mergulhassem descalças e amorosas. A segunda bailadeira tinha o tipo característico da adolescente pervertida. Magra — porém de seios bem visíveis —, cabelos de um louro sujo, cara provocante, nariz arrebitado. As suas pernas despertavam desejos brutais de as morder, escalavradas de músculos, de durezas — masculinamente.