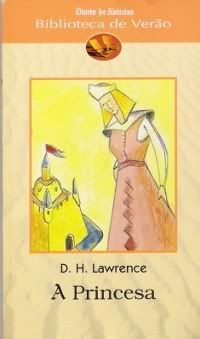 The Princess - D. H. Lawrence (free to read @
project Guttenberg
)
A good short story, that got a lot more interesting towards the end, though I still feel the pacing was all over the place-- at first, it's quite slow but then all the "good" bits, as it were, seem to tumble down on you quite rapidly, and you have almost no time to take them all in. The backcover tells me that the Princess is a typical D. H. Lawrence woman, which does make me want to read more of his books.
Btw, I must note this: I am reading a lot of short stories, yes, but I do not feel that cheapens this whole thing.Why? Well, mainly because I am trying to read the books I have, and I don't care if they have 3 or 8942842 pages. Besides, I find short stories to be great vehicles in assessing whether I'd be interested in reading a novel by that particular author or not. Moreover, they do come quite in handy when I get in to my usual rut of taking 4000 million years to get into a novel. Thus, I never stop reading, even if I don't really feel like it.
Excerpt:
Ao lado do pai latagão e formoso, com o seu quê de louco, a Princesa andava direita, toda distinção mas pequena, quase minúscula no físico e com ar de criança trazida pelas fadas. Vestia simplesmente e em geral de azul ou delicado cinzas, com golas em velho ponto-de-milão ou de linho cheio de bordados finos. Tinha mãos frágeis que a tocar tiravam do piano sonoridade de cravo. E tendência para ir à rua de peregrina e capa, em vez de casaco, com uma colecção de chapéus oitocentistas. A pele era pura flor de macieira.
Parecia saída de um quadro. E morreu sem conhecer o estranho quadro onde o pai a tinha encaixilhado para sempre.