"Ah, the red planet". Wait, didn't I read somewhere that it was actually brown? Screw that, the intro is rolling in!
I'm watching each character and trying to figure out the order in which they will die. I really should get into it more and stop
being my mum whenever I go to see a thriller with her and
guessing the end 10 minutes in.
"State your name, rank and intention."
"The Doctor. Doctor. ...fun." The way he said fun was so hilarious I had to pause to have a large giggle.
Super eerie. I'm a bit startled, I must say.
FUCK JESUS GAWD. AAAAAAAAAAAAAAAAH. Taking a screencap of that was not easy, trust me.
*hides under bed *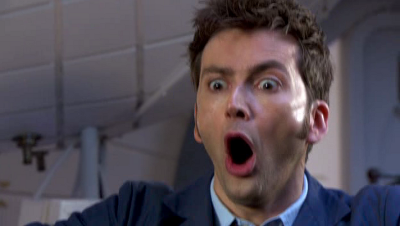 Okay, Ten's "O" face has made it all better.
Fucking hell, why is the running water scaring me? AND OMG AGAIN WHY DID I JUMP I KNEW HE WOULD TURN FUCK AAAAAAAAAAAAAAAAAAAAAAAAAAAAAAH. Fuck Blink, this is much worse on my poor little heart.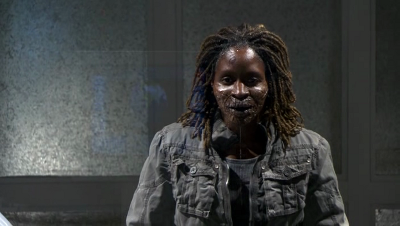 Officially the scariest episode of Who ever.
Uuuuughhhh.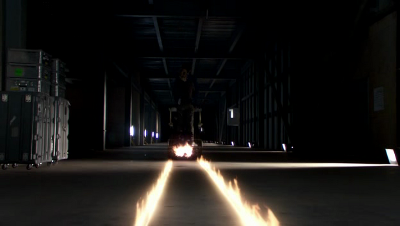 I want to believe that it was a Back to the Future reference. It's got to be.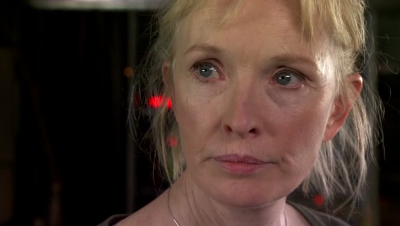 Fantastic link back to season 4's finale.
The tension is delicious. Not because it's weird, badly-paced or awkward, quite the opposite: it's fantastic.
With not a word, I can fully understand how painful it is to leave them behind.
This is making me tear up a little. Fuck.
"Why can't you help me if you know how to change it?"
"I can't."
I haven't got a single snarky comment for this. It's just so brilliant. So heartbreaking, but brilliant.
Oh hell yeah. THE TIMELORD SAVING MUSIC IS ON.
I'm overflowing with an incredible joy at this scene. The rawness of it, his anger, his frustration, the realization that he doesn't have to obey any laws...fuck me, I'm going to miss David Tennant.
"The laws of time are mine, and they will obey me!"
"No one should have that much power!"
"Tough."
I like the dark, horrible side of him.
"There's no one to stop you."
"No."
"This is wrong, Doctor!"
"Is there anything you can't do?"
"...not anymore."
AWESOME TWIST. I FORGIVE YOU, RUSTY.
For the 94029492º time.
I love this, I love this, I love this, I LOVE THIS. FINALLY. Finally they've called him out, finally we discover why the Doctor needs a companion and finally we see him genuinely scared.
I already knew he was in it, but FUCK YEAH, MASTER IN THE NEXT EPISODE. SORRY FOR THE ABUNDANCE OF CAPS.